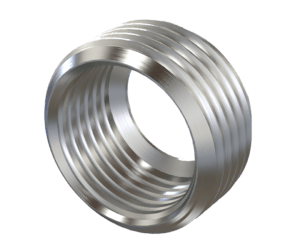 1/2″  to 4″ Rigid Steel & Aluminum Reducing Bushings
Hazardous & Ordinary Locations
Reducing bushings are used to reduce the trade size of a tapered entry.  Key factors for reducing bushings are alignment, consistent centerlines, strong threads. Since it is a solid construction the weight and strength of the fitting should be considered. Due to its low Brinnel Hardness ratings, diecast has been known to deform under stress load and the softness of the threads will loosen over time.
Twice the Strength & Durability of Cast Products→ Precision machined cut Threads, Alloy Steel hard makes this a self-aligning bushing with rigid conduit. You are guaranteed AMFICO Integrity of USA materials and manufacturing, quality is never a concern.
Save Installation Costs, Improve Your Application with AMFICO
Guaranteed Product Value to EXCEED Your Expectations. . . NOT Your Budget!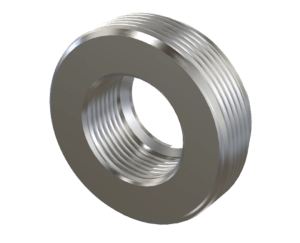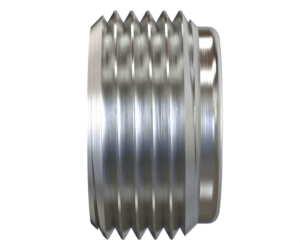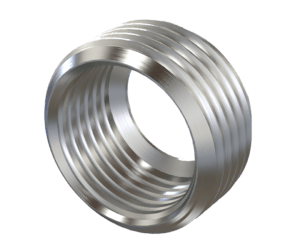 Precision Machined for EZ-PULL ID, Nothing to Restrict or Snag Wire for FAST Cable Pulls 
1/2″ to 4″ Reducing Bushings, Steel and Aluminum, Ordinary or Hazardous Locations
| | | | | | | |
| --- | --- | --- | --- | --- | --- | --- |
| | Cat Number | Trade Size " | Product Description | Wt. Ea. lbs. | Std Box Qty. | NAED UPC |
| | RB 5038 |  1/2 | 1/2 x 3/8 STL RB USA (NPS) | 0.02 | 100 | 66236413002 |
| | RB 7550 |  3/4 | 3/4 x 1/2 STL RB USA (NPS) | 0.04 | 100 | 66236413004 |
| | RB 7550H |  3/4 | 3/4 x 1/2 STL RB USA (NPT) Haz. Loc. | 0.06 | 50 | 66236414148 |
| | RB 7550HAL |  3/4 | 3/4 x 1/2 AL RB (NPT) Haz. Loc. USA | 0.03 | 50 | 66236414210 |
| | RB10050 | 1 | 1 x 1/2 STL RB USA (NPS) | 0.12 | 50 | 66236413006 |
| | RB10050H | 1 | 1 x 1/2 STL RB USA (NPT) Haz. Loc. | 0.14 | 50 | 66236414149 |
| | RB10050HAL | 1 | 1 x 1/2 AL RB (NPT) Haz. Loc. USA | 0.06 | 50 | 66236414211 |
| | RB10075 | 1 | 1 x 3/4 STL RB USA (NPS) | 0.07 | 50 | 66236413008 |
| | RB10075H | 1 | 1 x 3/4 STL RB USA (NPT) Haz. Loc. | 0.08 | 50 | 66236414150 |
| | RB10075HAL | 1 | 1 x 3/4 AL RB (NPT) Haz. Loc. USA | 0.04 | 50 | 66236414212 |
| | RB125100 | 1-1/4 | 1-1/4 x 1 STL RB USA (NPS) | 0.13 | 20 | 66236413014 |
| | RB125100H | 1-1/4 | 1-1/4 x 1 STL RB USA (NPT) Haz. Loc. | 0.18 | 20 | 66236414151 |
| | RB125100HAL | 1-1/4 | 1-1/4 x 1 AL RB (NPT) Haz. Loc. USA | 0.07 | 20 | 66236414213 |
| | RB12550 | 1-1/4 | 1-1/4 x 1/2 STL RB USA (NPS) | 0.26 | 20 | 66236413010 |
| | RB12550H | 1-1/4 | 1-1/4 x 1/2 STL RB USA (NPT) Haz. Loc. | 0.36 | 20 | 66236414152 |
| | RB12550HAL | 1-1/4 | 1-1/4 x 1/2 AL RB (NPT) Haz. Loc. USA | 0.12 | 20 | 66236414214 |
| | RB12575 | 1-1/4 | 1-1/4 x 3/4 STL RB USA (NPS) | 0.22 | 20 | 66236413012 |
| | RB12575H | 1-1/4 | 1-1/4 x 3/4 STL RB USA (NPT) Haz. Loc. | 0.28 | 20 | 66236414153 |
| | RB12575HAL | 1-1/4 | 1-1/4 x 3/4 AL RB (NPT) Haz. Loc. USA | 0.10 | 20 | 66236414215 |
| | RB150100 | 1-1/2 | 1-1/2 x 1 STL RB USA (NPS) | 0.26 | 10 | 66236413020 |
| | RB150100H | 1-1/2 | 1-1/2 x 1 STL RB USA (NPT) Haz. Loc. | 0.36 | 10 | 66236414154 |
| | RB150100HAL | 1-1/2 | 1-1/2 x 1 AL RB (NPT) Haz. Loc. USA | 0.13 | 10 | 66236414216 |
| | RB150125 | 1-1/2 | 1-1/2 x 1-1/4 STL RB USA (NPS) | 0.11 | 10 | 66236413022 |
| | RB150125H | 1-1/2 | 1-1/2 x 1-1/4 STL RB USA (NPT) Haz. Loc. | 0.16 | 10 | 66236414155 |
| | RB150125HAL | 1-1/2 | 1-1/2 x 1-1/4 AL RB (NPT) Haz. Loc. USA | 0.07 | 10 | 66236414217 |
| | RB15050 | 1-1/2 | 1-1/2 x 1/2 STL RB USA (NPS) | 0.40 | 10 | 66236413016 |
| | RB15050H | 1-1/2 | 1-1/2 x 1/2 STL RB USA (NPT) Haz. Loc. | 0.54 | 10 | 66236414156 |
| | RB15050HAL | 1-1/2 | 1-1/2 x 1/2 AL RB (NPT) Haz. Loc. USA | 0.19 | 10 | 66236414218 |
| | RB15075 | 1-1/2 | 1-1/2 x 3/4 STL RB USA (NPS) | 0.34 | 10 | 66236413018 |
| | RB15075H | 1-1/2 | 1-1/2 x 3/4 STL RB USA (NPT) Haz. Loc. | 0.46 | 10 | 66236414157 |
| | RB15075HAL | 1-1/2 | 1-1/2 x 3/4 AL RB (NPT) Haz. Loc. USA | 0.16 | 10 | 66236414219 |
| | RB200100 | 2 | 2 x 1 STL RB USA (NPS) | 0.64 | 5 | 66236413028 |
| | RB200100H | 2 | 2 x 1 STL RB USA (NPT) Haz. Loc. | 1.44 | 5 | 66236414158 |
| | RB200100HAL | 2 | 2 x 1 AL RB (NPT) Haz. Loc. USA | 0.27 | 5 | 66236414220 |
| | RB200125 | 2 | 2 x 1-1/4 STL RB USA (NPS) | 0.46 | 5 | 66236413030 |
| | RB200125H | 2 | 2 x 1-1/4 STL RB USA (NPT) Haz. Loc. | 1.04 | 5 | 66236414159 |
| | RB200125HAL | 2 | 2 x 1-1/4 AL RB (NPT) Haz. Loc. USA | 0.22 | 5 | 66236414221 |
| | RB200150 | 2 | 2 x 1-1/2 STL RB USA (NPS) | 0.30 | 5 | 66236413032 |
| | RB200150H | 2 | 2 x 1-1/2 STL RB USA (NPT) Haz. Loc. | 0.60 | 5 | 66236414160 |
| | RB200150HAL | 2 | 2 x 1-1/2 AL RB (NPT) Haz. Loc. USA | 0.17 | 5 | 66236414222 |
| | RB20050 | 2 | 2 x 1/2 STL RB USA (NPS) | 0.80 | 5 | 66236413024 |
| | RB20050H | 2 | 2 x 1/2 STL RB USA (NPT) Haz. Loc. | 1.84 | 5 | 66236414162 |
| | RB20050HAL | 2 | 2 x 1/2 AL RB (NPT) Haz. Loc. USA | 0.33 | 5 | 66236414224 |
| | RB20075 | 2 | 2 x 3/4 STL RB USA (NPS) | 0.74 | 5 | 66236413026 |
| | RB20075H | 2 | 2 x 3/4 STL RB USA (NPT) Haz. Loc. | 1.68 | 5 | 66236414161 |
| | RB20075HAL | 2 | 2 x 3/4 AL RB (NPT) Haz. Loc. USA | 0.31 | 5 | 66236414223 |
| | RB250100 | 2-1/2 | 2-1/2 x 1 STL RB USA (NPS) | 1.18 | 5 | 66236413038 |
| | RB250100H | 2-1/2 | 2-1/2 x 1 STL RB USA (NPT) Haz. Loc. | 1.30 | 5 | 66236414163 |
| | RB250100HAL | 2-1/2 | 2-1/2 x 1 AL RB (NPT) Haz. Loc. USA | 0.43 | 5 | 66236414225 |
| | RB250125 | 2-1/2 | 2-1/2 x 1-1/4 STL RB USA (NPS) | 0.98 | 5 | 66236413040 |
| | RB250125H | 2-1/2 | 2-1/2 x 1-1/4 STL RB USA (NPT) Haz. Loc. | 1.40 | 5 | 66236414164 |
| | RB250125HAL | 2-1/2 | 2-1/2 x 1-1/4 AL RB (NPT) Haz. Loc. USA | 0.46 | 5 | 66236414226 |
| | RB250150 | 2-1/2 | 2-1/2 x 1-1/2 STL RB USA (NPS) | 0.81 | 5 | 66236413042 |
| | RB250150H | 2-1/2 | 2-1/2 x 1-1/2 STL RB USA (NPT) Haz. Loc. | 1.40 | 5 | 66236414165 |
| | RB250150HAL | 2-1/2 | 2-1/2 x 1-1/2 AL RB (NPT) Haz. Loc. USA | 0.46 | 5 | 66236414227 |
| | RB250200 | 2-1/2 | 2-1/2 x 2 STL RB USA (NPS) | 0.44 | 5 | 66236413044 |
| | RB250200H | 2-1/2 | 2-1/2 x 2 STL RB USA (NPT) Haz. Loc. | 1.10 | 5 | 66236414166 |
| | RB250200HAL | 2-1/2 | 2-1/2 x 2 AL RB (NPT) Haz. Loc. USA | 0.36 | 5 | 66236414228 |
| | RB300125 | 3 | 3 x 1-1/4 STL RB USA (NPS) | 1.94 | 5 | 66236413052 |
| | RB300125H | 3 | 3 x 1-1/4 STL RB USA (NPT) Haz. Loc. | 2.00 | 5 | 66236414167 |
| | RB300125HAL | 3 | 3 x 1-1/4 AL RB (NPT) Haz. Loc. USA | 0.66 | 5 | 66236414229 |
| | RB300150 | 3 | 3 x 1-1/2 STL RB USA (NPS) | 1.78 | 5 | 66236413054 |
| | RB300150H | 3 | 3 x 1-1/2 STL RB USA (NPT) Haz. Loc. | 2.40 | 5 | 66236414168 |
| | RB300150HAL | 3 | 3 x 1-1/2 AL RB (NPT) Haz. Loc. USA | 0.79 | 5 | 66236414230 |
| | RB300200 | 3 | 3 x 2 STL RB USA (NPS) | 1.35 | 5 | 66236413056 |
| | RB300200H | 3 | 3 x 2 STL RB USA (NPT) Haz. Loc. | 2.00 | 5 | 66236414169 |
| | RB300200HAL | 3 | 3 x 2 AL RB (NPT) Haz. Loc. USA | 0.66 | 5 | 66236414231 |
| | RB300250 | 3 | 3 x 2-1/2 STL RB USA (NPS) | 0.80 | 5 | 66236413058 |
| | RB300250H | 3 | 3 x 2-1/2 STL RB USA (NPT) Haz. Loc. | 1.70 | 5 | 66236414170 |
| | RB300250HAL | 3 | 3 x 2-1/2 AL RB (NPT) Haz. Loc. USA | 0.56 | 5 | 66236414232 |
| | RB350150 | 3-1/2 | 3-1/2 x 1-1/2 STL RB USA (NPS) | 2.61 | 2 | 66236413068 |
| | RB350150H | 3-1/2 | 3-1/2 x 1-1/2 STL RB USA (NPT) Haz. Loc. | 2.30 | 2 | 66236414171 |
| | RB350150HAL | 3-1/2 | 3-1/2 x 1-1/2 AL RB (NPT) Haz. Loc. USA | 0.76 | 2 | 66236414233 |
| | RB350200 | 3-1/2 | 3-1/2 x 2 STL RB USA (NPS) | 2.15 | 2 | 66236413070 |
| | RB350200H | 3-1/2 | 3-1/2 X 2 STL RB USA (NPT) Haz. Loc. | 2.30 | 2 | 66236414172 |
| | RB350200HAL | 3-1/2 | 3-1/2 x 2 AL RB (NPT) Haz. Loc. USA | 0.76 | 2 | 66236414234 |
| | RB350250 | 3-1/2 | 3-1/2 x 2-1/2 STL RB USA (NPS) | 1.61 | 2 | 66236413072 |
| | RB350250H | 3-1/2 | 3-1/2 x 2-1/2 STL RB USA (NPT) Haz. Loc. | 2.70 | 2 | 66236414173 |
| | RB350250HAL | 3-1/2 | 3-1/2 x 2-1/2 AL RB (NPT) Haz. Loc. USA | 0.89 | 2 | 66236414235 |
| | RB350300 | 3-1/2 | 3-1/2 x 3 STL RB USA (NPS) | 0.74 | 2 | 66236413074 |
| | RB350300H | 3-1/2 | 3-1/2 x 3 STL RB USA (NPT) Haz. Loc. | 2.50 | 2 | 66236414174 |
| | RB350300HAL | 3-1/2 | 3-1/2 x 3 AL RB (NPT) Haz. Loc. USA | 0.83 | 2 | 66236414236 |
| | RB400200 | 4 | 4 x 2 STL RB USA (NPS) | 3.08 | 2 | 66236413084 |
| | RB400200H | 4 | 4 x 2 STL RB USA (NPT) Haz. Loc. | 3.50 | 2 | 66236414175 |
| | RB400200HAL | 4 | 4 X 2 AL RB (NPT) Haz. Loc. USA | 1.16 | 2 | 66236414237 |
| | RB400250 | 4 | 4 x 2-1/2 STL RB USA (NPS) | 2.57 | 2 | 66236413086 |
| | RB400250H | 4 | 4 x 2-1/2 STL RB USA (NPT) Haz. Loc. | 3.80 | 2 | 66236414176 |
| | RB400250HAL | 4 | 4 x 2-1/2 AL RB (NPT) Haz. Loc. USA | 1.25 | 2 | 66236414238 |
| | RB400300 | 4 | 4 x 3 STL RB USA (NPS) | 1.67 | 2 | 66236413088 |
| | RB400300H | 4 | 4 x 3 STL RB USA (NPT) Haz. Loc. | 3.20 | 2 | 66236414177 |
| | RB400300HAL | 4 | 4 x 3 AL RB (NPT) Haz. Loc. USA | 1.06 | 2 | 66236414239 |
| | RB400350 | 4 | 4 x 3-1/2 STL RB USA (NPS) | 1.26 | 2 | 66236413090 |
| | RB400350H | 4 | 4 x 3-1/2 STL RB USA (NPT) Haz. Loc. | 2.90 | 2 | 66236414178 |
| | RB400350HAL | 4 | 4 x 3-1/2 AL RB (NPT) Haz. Loc. USA | 0.96 | 2 | 66236414240 |
Configurations:
Trade Sizes: 1/2″ to 4″
Material Construction:  Alloy Steel, Zinc Plated with Chromate Finish
Galvanized Plating Available
Solid Steel Construction Fully Precision Machined
Aluminum Copper Free (less than 4/10 of 1%)
Features:
Precision Cut Machined Threads
Seamless Integration with Rigid Steel Conduit
Smooth, Rounded, Burr-less Bushing Protects Conductor Insulation
Ordinary Loc: NPS Threads  |  Hazardous Loc. NPT Threads
Compliances:
Hazardous Locations:
UL 1203
UL Listed for Hazardous Locations,
Class I, Division 1 & 2, Groups A, B, C, D
Class II, Division 1, Groups E, F, G
Class II, Div 1 & 2
Ordinary Locations:
UL 514B, 467
NEMA Standard FB1
Federal Standard A-A-50553
CSA Standard: C22.2 No. 18F
Both Configurations:
NEMA Standard FB1
Federal Standard A-A-50553
UL Standards: 514B, 467
CSA Standard: C22.2 No. 30
RoHS Compliant
REACH Compliant
CA Prop 65 Compliant
UNSPSC 39121312