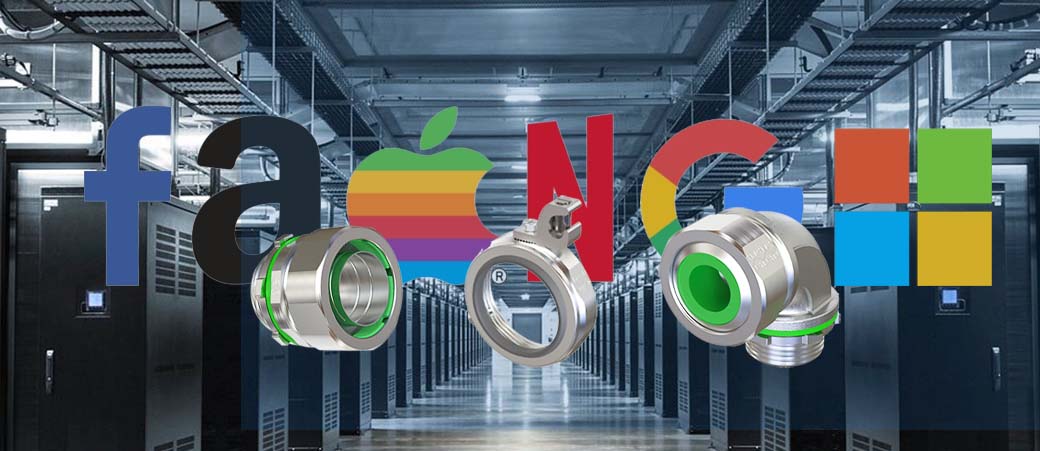 2022 Datacenter Header2
Next Generation Data Centers are Resourcefully Served with
Our Next Generation of Electrical Fittings.
We Deliver; On Time, To Spec, and On Budget.

Liquid Tight, Tray Cable Connectors, Hard Conduit,
Under-Floor, In Cable Tray, In the Ceiling or Overhead Spaces
AMFICO Fittings Are Guaranteed to Keep Your Cable Connected
SPECgrade Electrical Fittings for FAANG+M Projects
Data centers are critical to any enterprise and must be operational 24/7/365. Electrical fittings used in these centers must have the same level of dependability as they provide power all day, every day for equipment like rack system PDUs, servers, UPS and data storage devices.Our specification grade electrical fittings are designed and manufactured to keep your data centers efficient and code compliant while ensuring workplace safety and eliminating downtime.
Solid bar stock construction, precision machined provide the ultimate in environmental protection in your facility and on equipment.
We Meet the Most Demanding Requirements, OUR OWN !
Food processing facilities get cleaned and sanitized regularly, exposing vital machinery to liquids and contaminants that threaten both safety and reliability. Since contamination and corrosion are unacceptable, power handling equipment and their components must withstand the elements and fight off threats.You can be assured that all our fittings are built to withstand washdown and corrosive agents in demanding food processing environments.
You be assured that our products are built to withstand washdown and corrosive agents in demanding food processing environments. All AMFICO fittings are listed, meet and/or exceed performance requirements from Underwriters Laboratory (UL) and the Canadian Standards Association (CSA). Please see individual products for specific listing information.
When you utilize American Fittings , you buy from an American, family-owned manufacturing company. All our products are manufactured in our manufacturing headquarters in Fair Lawn, NJ. No other electrical fitting manufacturer sells more US Made steel electrical fittings that us. Its that simple.
Every fitting is built with our Seal of  INTEGRITY:
WE KNOW the DNA of every piece of raw material we utliize.
WE KNOW the machine, operator, date and time the component and fitting was manufactured by us.
WE KNOW the inspector and protocol used to inspect our fittings.
WE KNOW the date, time and packaging person who packaged our fittings.
WE KNOW you cannot buy a better fitting- THAT WE GUARANTEE
You Will AMFICO Hanging Around Most Data Centers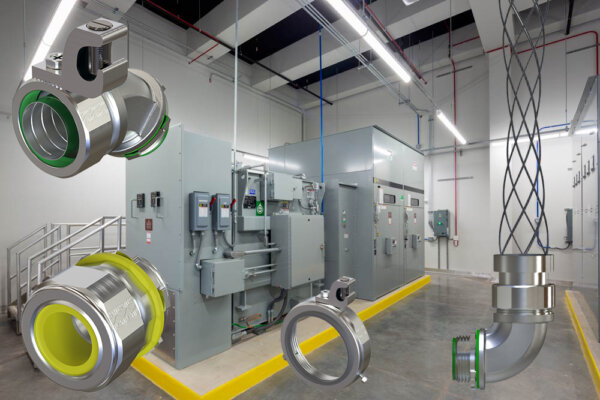 Cord Grips and SR for Power Drop Cords and Equipment Hookups

Liquid Tight Fittings Straight, 90 and 45 deg. for equipment hookups

Ground Bushings and 3 Piece Rigid Conduit Couplings

Watertight Ground Hubs for Panels & Enclosures
ADD MORE COPY —-
UL Listed, Approved and Tested
Manufactured in the US in our facility in Fair Lawn, NJ
Hygienic design in accordance with EN1672-2 & EN ISO 14159
Smooth finish eliminates build up of bacteria & micro-organisms
Liquid Tight, Dust Tight Ratings by UL, Meeting NEMA 4X