3 Piece Erickson Couplings Steel 1/2″ to 4″ Made in USA  for Rigid / IMC (ER Series)
Connects two pieces of a threaded rigid conduit when one piece of the conduit cannot be turned. Ideal fitting for retrofits.
Key factors for 3 piece couplings alignment, consistent centerlines, strong threads. Since it is 3 individual components the weight of the fitting should be considered. Malleable fittings are bulky and are 2 -3 times the weight of steel. Due to its low Brinnel Hardness ratings, diecast has been known to deform under stress load and the softness of the threads will loosen over tight.  Learn more about steel /diecast and malleable→
The BEST 3 Piece Coupling Made
Save Installation Costs, Improve Your Application with AMFICO
Guaranteed Product Value to EXCEED Your Expectations. . . NOT Your Budget!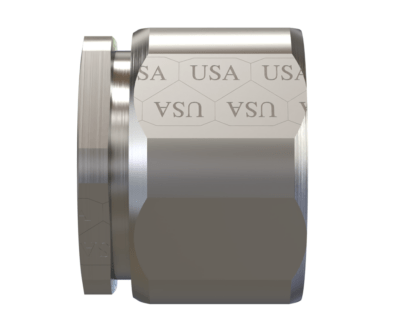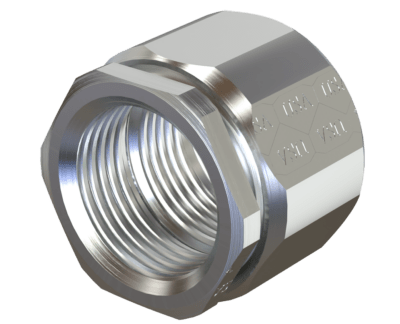 3 Piece Couplings Steel 1/2 " to 4″ Made in the USA
Zinc Plated with Chromate Finish, Galvanizing Plated Option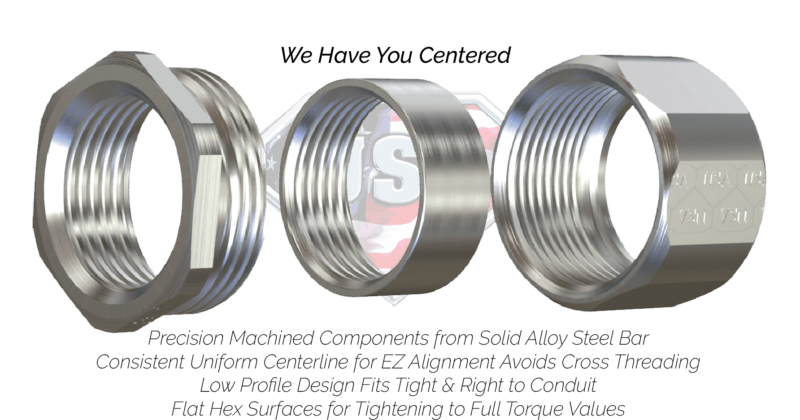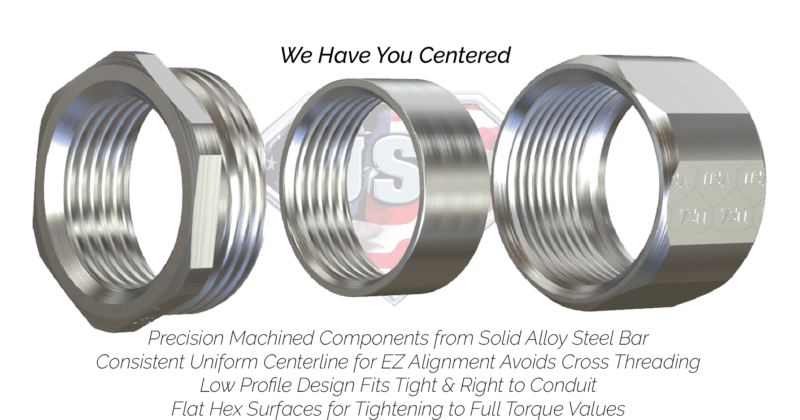 Consider These Critical Features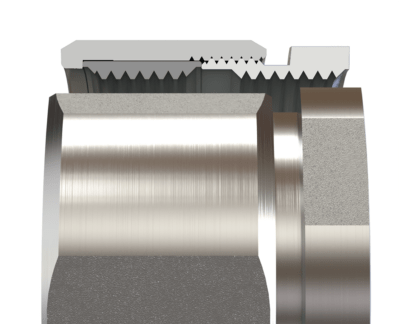 Saving Labor Time Improve Your Application With
Precision Machined Threads & Centerlines for Self Alignment
AVOID the Issues of Soft Die-Cast & MI Threads!
Twice the Strength and Durability of Die-Cast & Malleable with
1/3 the Weight and Bulk of Malleable Iron Fittings
3 Distinct Pieces Self Align with Conduit Center Line. Avoids Cross Threading
EZ Torque Compression with Flat Full Hex Surfaces
Low Sleek Profile Design
Full Integrity of Materials and Products
Galvanized Plated Couplings are Available
Unlike malleable no surface imperfections to avoid plating, our steel coupling is smooth and uniformly accepts plating.  Fittings are suitable for direct burial and rain-tight when taped. 
Configurations:
Trade Sizes: 1/2″ to 4″
Material Construction:  Alloy Steel, Zinc Plated with Chromate Finish
Solid Steel Construction Fully Precision Machined
Galvanized Plating Option Available
Rain Tight, Concrete Tight &
Suitable for Direct Burial When Taped
Features:
Steel Cut Threads Self Align Conduit and Centerlines
Low Profile Design Conforms to Conduit for Tight Spaces
Couples Conduit When Conduit Cannot be Turned
Twice The Strength & Durability of Die-Cast & MI
Flat Hex Surfaces Precision Cut Threads for EZ Torque
Compliances:
UL Listed to 514B
NEMA Standard FB1
Federal Standard A-A-50553
UL Standards: 514B, 467
Class 2 Division 1 per NEC Article 500.8(B)(3)
Suitable Rain Tight, Concrete Tight & Direct Burial
Certified for MIL-STD 810 Sinusoidal Vibrations
CSA Standard: C22.2 No. 18F
RoHS Compliant
REACH Compliant
CA Prop 65 Compliant
UNSPSC 39131707