Straight Cord Grip Connectors 1/2″ to 3″ Made in the USA CG Series
Steel, Aluminum, Stainless Steel ***
AMFICO CG Series for Flexible Cords for Pumps, Motors, Drop Cords to Tray Cable
Demanding Conditions Demand the BEST Our Cord Connectors are  Superior to ALL  CGB, TnB Connectors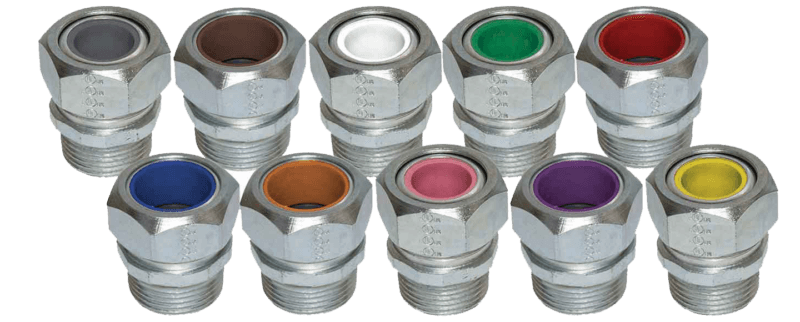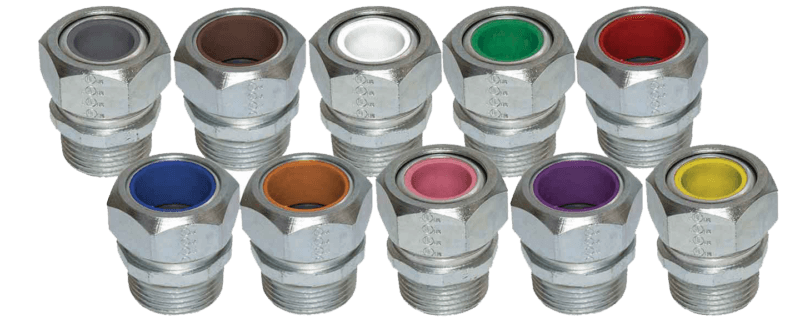 CG Connectors are fully manufactured in our factory in Fair Lawn, NJ. Precision machined from solid bar stock, there is not a stronger or more versatile seal tight-fitting made. Strong threads ensured you are environmentally protected and protect against cord slide. Grommets are also manufactured by us in Fair Lawn, NJ,  color-coded by cable range for identification.
Material is Santoprene, Flame retardant: UV resistant and stabilized against copper and other metal-catalyzed degradation. Santoprene is UL 94 V-0 rated and UL 94 5VA rated. Detergent-resistant: Santoprene has excellent form and property retention in the presence of typical washdown detergents. Santoprene is FDA APPROVED and LATEX FREE


AMERICAN FITTINGS SPEC-grade Cord Grip connectors are the ideal choice for environments and applications where product integrity is your prime concern. AMFICO cord connectors ARE suitable and are currently used in many industries; including; petroleum, food processing, chemical, wastewater treatment, HVAC, aerospace, electric power, automobile, paper mills, pumps.  Our cord grips are the ideal choice for all your cable requirements.
AMFICO's fully machined unique design is ideal for indoor or outdoor locations where continuous or intermittent moisture is present and positive bonding to conduit, box, or enclosure is required. Together, the flexible metallic conduit and fittings protect conductors from damage due to excessive vibrations and contaminants, such as moisture, oils, and dust.
Santoprene Grommets for Moisture-Proof Seal
EZ Installation No Disassembly is Required
NPT Threads for Positive Sealing
Liquidtight/Oiltight/Raintight
Suitable for NEMA 4x Enclosures & Wet Locations
Colored Grommets Allow for Easy Identification
AMFICO CORD GRIP CONNECTORS OUTPERFORM & OUTCLASS ALL COMPETITORS
Guaranteed to Install Faster and Improve Your Application
Cable Range Sizes from .150″ to 3.220″
Low Profile Design Provides Perfect Space for Cable Groupings
Configurations:
Size Range by Material Offering:
*** Alloy Steel 3/8" – 3"
*** Aluminum – Copper-Free 1/2" – 1" AL cat #
*** Stainless Steel Type 316 1/2" – 1" SST cat#
Grommets Are Color Coded by Cord Grip Range
Grommet Material Rated UL 94 V-0 & UL 94 5VA
Detergent-resistant FDA Approved
Connectors have NPT Threading for a Liquid Tight Seal
Available: UL Listed Locknuts & Sealing Washers
                   Consult Factory for Specific part numbers
CG Series Configurations Available:
Straights, 90°, 45°, Wire Mesh
Connectors with Multiple Hole Cable Entry
TYPE SE Service Entrance Flat Cable Connectors
Non-Metallic Cord Grip Connectors
Compliances:
UL 514B
NEMA Standard FB1 Rated Liquid Tight
Federal Standard A-A-50553
Grommet Santoprene UL 94V-0 FDA Approved
UL Rated Suitable for Hazardous Locations
NEC: Class I, Division 2
Class II, Divisions 1 and 2
Class III, Divisions 1 and 2
NEC 501-4(b), 505-4(a), 503-3(a)
CSA Standard: C22.2 No. 18F
RoHS and REACH Compliant
CA Prop 65 Compliant
UNSPC 39121719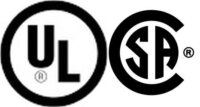 File # E96445  |  CSA # L61788
Consider Our NEW Cord Grip Kits
Available in Steel, Aluminum, and Stainless
Take the Guesswork Out of Sizing
Reduce Your Inventory
One Bag Covers a Range of Cords