Bus Drop Supports, BD Series – Steel, Single or Universal Bail
Made in the USA
AMFICO BD Series Bus Drop Support Grips are applied to vertical or horizontal cable runs to support the dead weight of suspended cables and cords to reduce potential damage due to breakage or stress.
Our Bus Drop Support Grips, with galvanized steel mesh, are designed for indoor light-duty support and are available for a range of cable diameters.
Cable Range 0.24" – 1.25"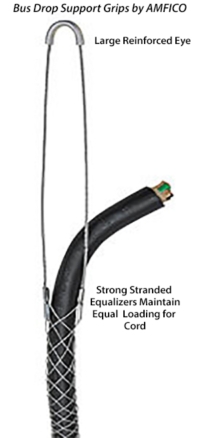 BD Bus Support Grips are also referred to as eye grips or suspension grips. These support grips have an extra-large reinforced eye with strand equalizers to reinforce gripping strength and distribute the weight load equally. They are galvanized steel for additional holding power in abrasive environments. Inherent strand equalizers in the wire mesh position wires for equal loading
Configurations:
Material Construction:  Steel, Galvanized
Designed for use indoor use only.
Features:
Indoor Applications, Light-Duty Support
Easily Installed
Single Weave Variable Mesh Grip
Galvanized Steel for Additional Holding Power in Abrasive Environments
Strand Equalizers Position Wires for Equal Loading
Single Eye
Safety Springs Are Available to Reduce Tension & Prevent Pullouts
Two Year Warranty
Compliances:
Certified Made in the USA
UL Listed
RoHS Compliant
REACH Compliant
CA Prop 65 Compliant
UNSPSC 39121722