FLEX Connectors for FMC, Unjacketed MC, Flex, Greenfield
3/8″ to 4″ Made in the USA SPECflex FLX Series
Replaces Your Squeeze Fittings and Save Labor
Put the USA Mark on Your Projects and Remove the Offshore Squeeze
Install Your Flex Connectors Without a Tool & Save Money
Outperforms and Outclasses ALL Squeeze Fittings
Installs in Seconds!  Save from 2 to 12 Minutes per Connection, Installs with a Few Turns
Furnished with a Factory Installed Insulated Bushing, Eliminates the Need & Cost of an Anti-Short Bushing"Red Head"
Compare SPECflex to Squeeze Connectors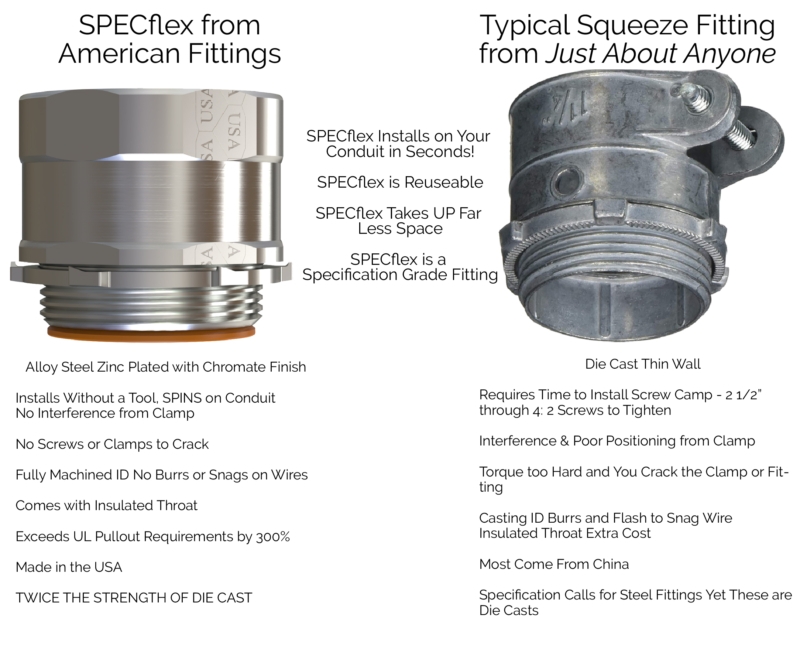 Squeeze fittings by NEC Code require an anti-short or "red-head" bushing which must be purchased separately which adds material costs and labor. Each SPECflex flex connector is furnished with a factory-installed insulated bushing.
Flex Connector – Straight Cat Numbers & Dimensions
Available in 90° and Flex ADAPTERS →  EMT  & Rigid Conduit (both set screw & compression)
---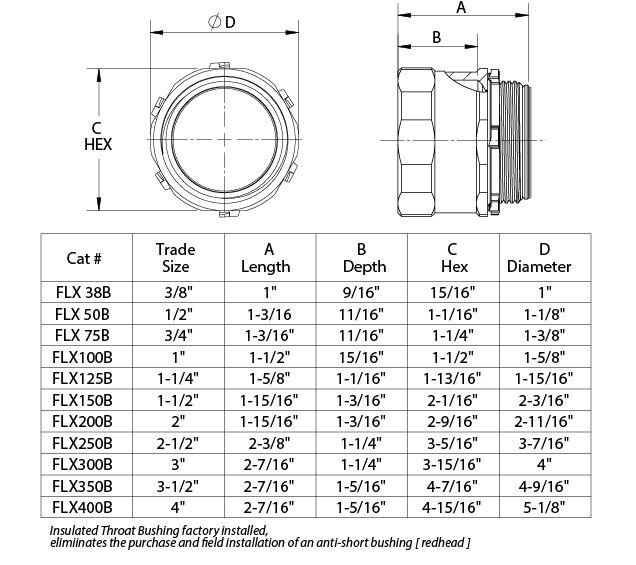 Configurations
Trade Sizes: 3/8″ to 4″
Material Construction:  Alloy Steel, Zinc Plated with Chromate Finish
Aluminum Construction Available Consult Factory
Factory Insulated Throat Bushing 105°C Rated
Furnished with a Factory Installed Industrial Grade Locknut
Available:  90º Connectors & Adapters to EMT & Rigid
SPECflex Connectors are ONLY offered WITH an insulated bushing.  This eliminates the purchase and installation of anti-short bushings or redheads to meet the code. 
NOTE: Consult with the factory if you are NOT using FMC or Greenfield conduit made in the USA and UL Listed. This fitting is designed and manufactured to work with UL listed FMC made in the USA, not foreign FMC.