Connectors for UF Service Entrance 1/2″ & 3/4″ UF Series
For securing and sealing service entrance and UF, SE, SEU cable entering an enclosure or conduit hub.
WaterTight and Precision Machined from Solid Alloy Steel Bar Zinc Plated with a Chromate Finish.
Suitable for Wet Locations & Direct Burial When Taped.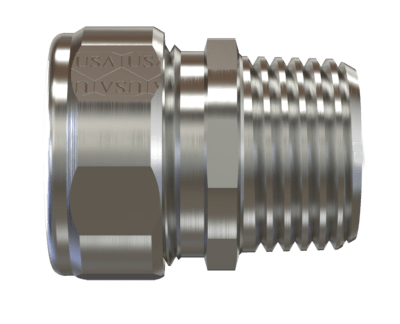 Flat Hex Service for Full Torque Values to Avoid Cable Pullout.
Fully Machine ID for EZ PULL Eliminating Sharp Binding Edges or Burrs to Snag Your Cable.
NPT Tapered Thread Suitable for NEMA 4 Enclosures  or 4X*
UL Listed Locknuts, Sealing Locknuts, and Sealing Washers Available for NT Entries
Solid Steel Retaining Ring Safeguards the Cable Jacket from Abrasion and
Reduces the Torque Required for a Liquid Tight Seal
Cat Numbers & Dimensions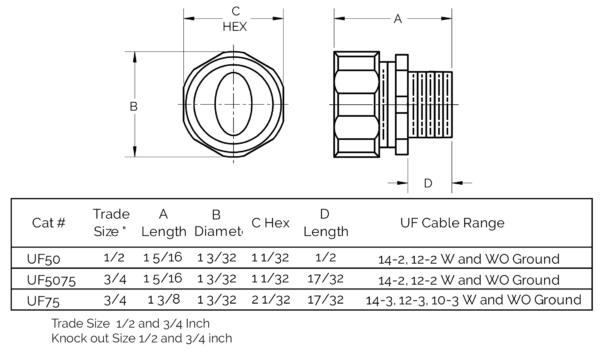 Supports 14/3 – 10/3 UF cables, and  features a low-profile design to accommodate both newer and smaller UF cables and standard-size UF cables.
Features:
Precision Machined Threaded NPT Tapered Alloy Steel Body with
Exclusive EZ-TORQUE Compression Nut All Zinc Plated with
Clear Chromate Finish for Corrosion Resistance
Solid Steel Retaining Ring Safeguards the Cable Jacket from Abrasion and
Reduces the Torque Required for a Liquid Tight Seal
Engineered Neoprene Grommet Designed for Liquid Tight Service and
Protect Against Oil and Contaminants
Fully Reusable Design
Full Flat Hex Surfaces on Compression Nut and Body Provides Full Torque Without Damage to Fitting
Compliances:
UL 514B
NEMA Standard FB1 Rated Liquid Tight
Federal Standard A-A-50553
NEMA 4x Rating*
RoHS Compliant
REACH Compliant
CA Prop 65 Compliant
UNSPSC 39121431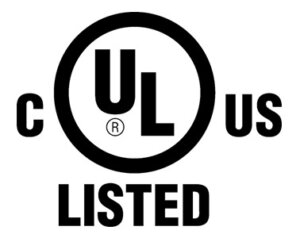 * When Using UL Listed Locknut & Sealing Washer (sold separately)