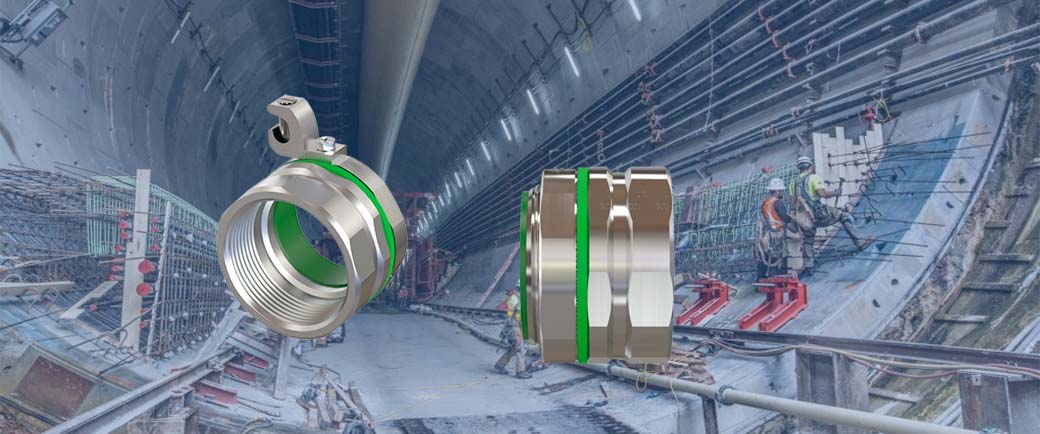 2022 AH Ground Hub header
The NEXT Generation of WaterTight Ground Hubs

Out with the OLD & INSTALL with the NEW AMFICO Hub,
Improve Your Installation and Application

Precision Machined STEEL Construction

Conduit Hubs, Water Tight 1/2″ to 4″ Made in the USA
Steel & Aluminum, with Numerous Grounding Options
Replaces Inferior Competitor Series; WT, ST, STG, WH, Hubs. 
It's Time to Rethink How You Connect!
Out with the OLD & INSTALL with the NEW AMFICO Hub,
Developed in 1947 Myers Hubs & Their Clones Have Not Changed Since Then…Until Now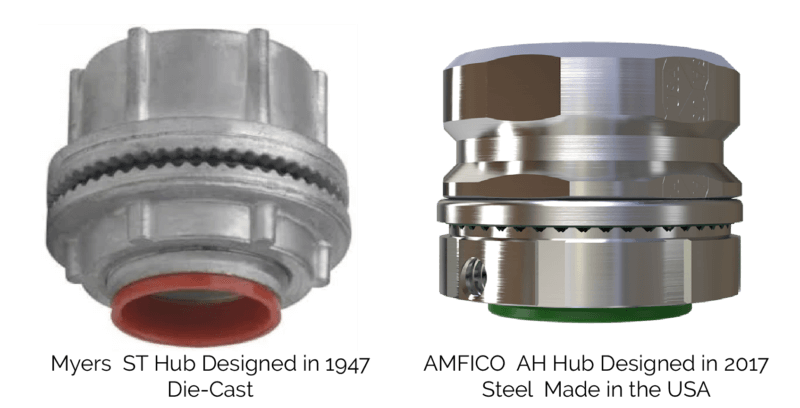 Your Specification Calls for Steel & Your Rigid Conduit is Steel.
Why Are You Using Outdated Die-Cast or Malleable Iron Hubs?
Watch This Video to See the Difference First Hand. . .Hubs Shown Are the Same Trade Size.
AVOID Environmental & Mechanical Issues of Soft Die-Cast & MI Threads &
Compare the Strengths & Durability of Materials Learn More →

| ASTM Physical Test | AMFICO Steel  | Malleable Iron "Theirs" | Zinc  Die-Cast "Theirs" |
| --- | --- | --- | --- |
| Tensile Strength KPSI | 78 | 41 | 37 |
| Brinell Hardness | 168 | 102-116 | 80 |

Soft leaking threads and misalignments become a thing of the past.
You are assured watertight protection with hard cut steel machined threads to compliment your rigid pipe threads. Learn More →
Low Profile Design, Provides More Wiring Room Inside and More Valuable Real Estate Outside

AMFICO Hubs Provide Greater Options for Grounding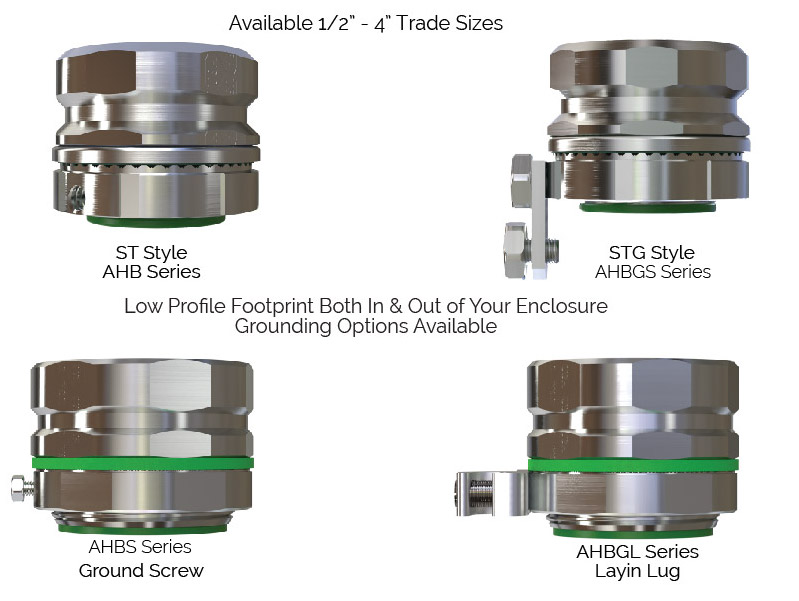 Ground Hubs Steel or Aluminum 1/2 " to 4″ Made in the USA
Steel is Zinc Plated with Chromate Finish, Galvanizing Plating Option
Featuring AMFICO's True, Tight, & Right Alignment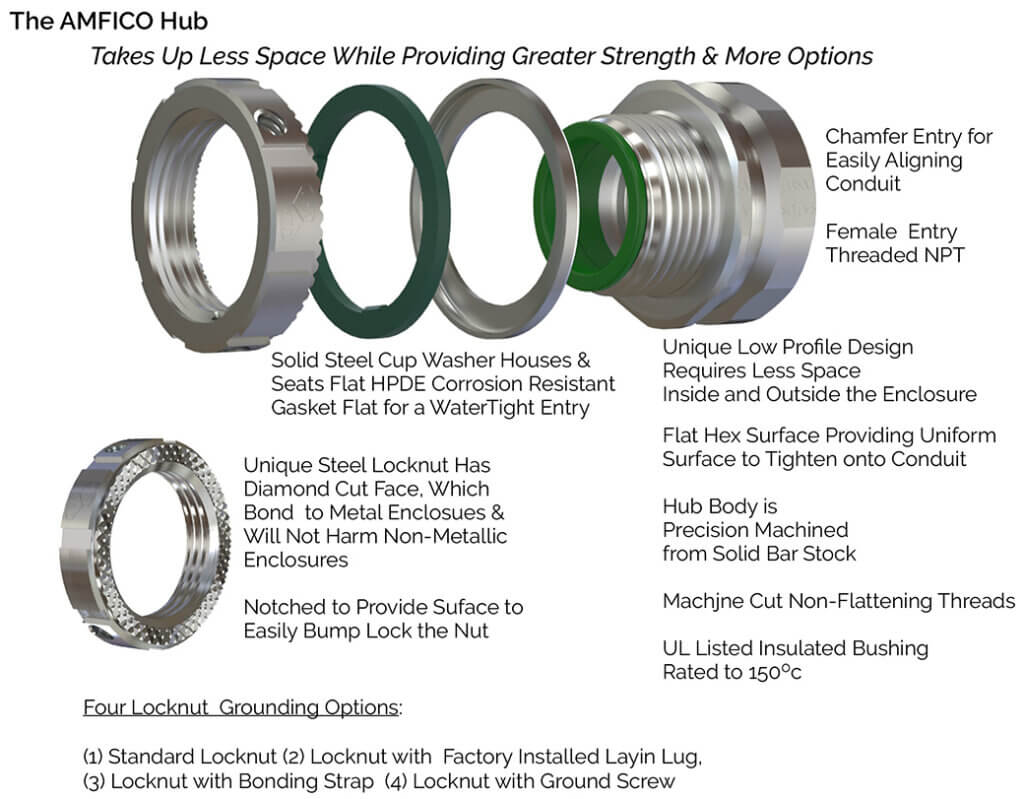 ---
Grounding Hubs, Options Designed With You In Mind
Click on any Image to Enlarge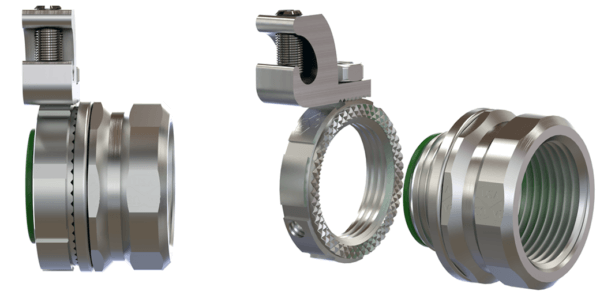 AHBGL Series Series Unique by Design  Lugs Available in AL or CU up to 250mcm
Layin Lug Option is not available on Myers Style Hubs
Configurations:
Trade Sizes: 1/2″ to 4″
Material Construction:  Alloy Steel, Zinc Plated with Chromate Finish
Solid Steel Construction Fully Precision Machined
Galvanized Plating Option Available
Aluminum Construction is Copper-Free Aluminum
Sealing Ring: HPDE Chemical Resistant Polyethylene
Insulated Throat Bushing: UL Listed Rated 150º c
Features:
Twice The Strength & Durability of Die-Cast & MI
Flat Hex Surfaces Precision Cut Threads for EZ Torque
Compliances:
Listed UL 514B, 467
NEMA Standard FB1
Rated NEMA Types 2, 3, 3R, 3, 4X, 5, 12, 13
NEC/CEC — Suitable for hazardous locations:
Class I, Division 2; Class II, Divisions 1 and 2;
Class III, per NEC 501.10(B)(4), 502.10(A)(1)(4),
502.10(B)(4), 503.10(A)(1).
Federal Standard A-A-50553
Meet Requirements of NEC Article 250.92 for Bonding of Equipment
for Services and NEC 250.97
Classified for Service Entrance
CSA Standard: C22.2 No. 18F
RoHS and REACH Compliant
Prop.65 CA Compliant
UNSPSC 3912131