Specification Grade Industrial Electrical Fittings, Made in the USA
Since 1946,  Designing & Manufacturing a Tradition of Quality, Excellence, & Integrity
Specification Grade
Industrial Electrical Fittings
Made in the USA
Since 1946,  Designing & Manufacturing a Tradition of Quality, Excellence, & Integrity
For over 70+ years AMERICAN FITTINGS, AMFICO, has now become THE leading US manufacturer and developer of precision alloy steel electrical fittings. Located in Fair Lawn, New Jersey with fully integrated, engineering, production, and manufacturing, AMERICAN FITTINGS is committed to fully manufacturing all products in the United States. Full Country of Origin Certifications are available for every product. Additionally, each fitting is furnished with a Guaranteed 100% Product Performance.
AMFICO has developed the Next Generation of Electrical Fittings that fully replaces the Big Brands – Out of Date, Out of Spec, and Out of Country fittings being sold today. Big Brands have become Big Box Stores for China and India. They simply outsource your purchases for their profit.
Every American fitting will save you labor costs, greatly improve your installation, and even reduce material costs. Panels will look like 21st-century panels with our fittings and not be topped off with relics of the past. With six fully stocked warehouses and AMFICO's National Network of ADP Signature Electrical Distributors stocking products throughout the country, all our products are readily available. Discover the Next Generation of Electrical Fittings, all manufactured in this country. Product integrity, competitively priced, and the finest electrical fitting in the industry are the hallmark of our products.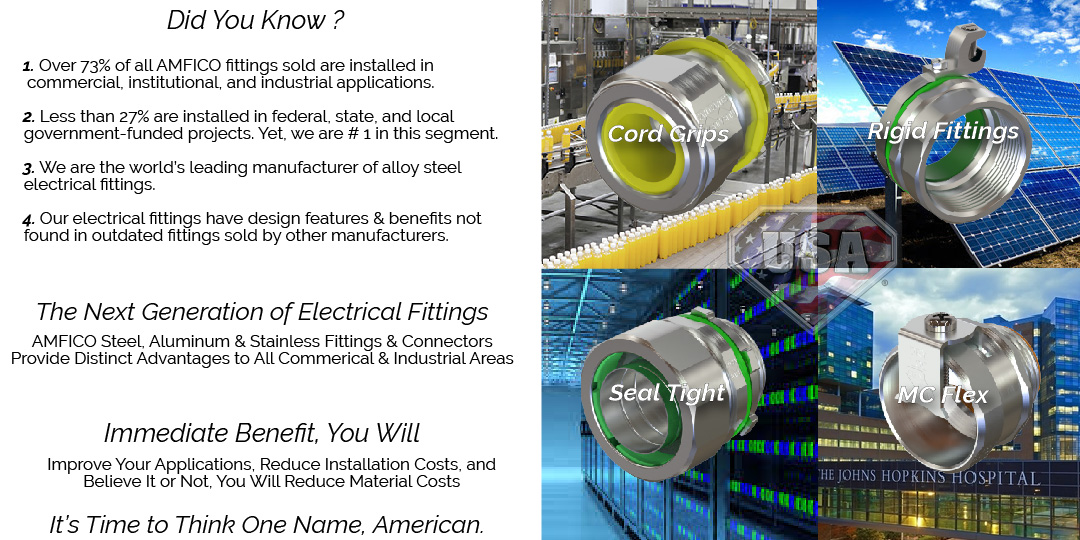 ---
Solutions for Industries
Our US Made SPEC-grade Industrial Electrical Fittings Go Well Beyond Government Projects!
The Leader in Fittings for Government Projects
American-Made Innovation, Integrity, Quality
The Leader in Fittings for Government Projects
American-Made Innovation, Integrity, Quality
AMERICAN FITTINGS Product Groups
EMT  |  Liquid Tight  |  Rigid Conduit  |  Flexible Cord  |  Flex Metal Conduit AC/MC
.
CONSIDER OUR COMPETITION– Many of our well known"Big Brand" competitors have closed fitting manufacturing in this country and now simply outsource their fittings to China and India. They are now "Big Box Warehouses" as a pass-through source of Off-Shore fittings. Different mills at different times of the year making fittings from unknown manufacturers Not only are is the fitting manufacturing outsourced so is the final inspection. This leaves you, your journeymen, or prefab crew as the inspectors for these brands seeking profits. 1 out of every 8 offshore fittings on the job site finds its way to the scrap bin. Consider the loss of time and material at your expense and their fain in profits.
CONSIDER OUR COMMITMENT – AMERICAN FITTINGS has increased and invested in manufacturing capacity by over 500% in the last five years. Our commitment from knowing the DNA of our raw material to the production floor to the packaging departments in our facility is fully documented. You build with integrity and inspect for compliance to the most demanding standards, our own. AMFICO fittings are furnished with a 100% Performance Guarantee.
Our products are cUL Listed and approved. Our electrical fittings are made in the USA and in turn, meet ALL state and federal requirements for government-funded projects. From OEM equipment builders to job site installations every AMFICO electrical fitting will save job-site labor, provide a more secure connection for your conduit and cord, and meet the most demanding of conditions and applications. When you open our boxes the only surprise is the quality of our products.
AMFICO Integrity in Every Box You Open
"Our Commitment to the Customer Exceeds Our Commitment to Profits."