1/2″ to 2-1/2″  Insulated Knockout Bushings Nylon Construction Snap-In (NKB Series)
When Your Projects Can't Settle for 2nd Best, AMFICO Insulated Bushings Keep You Safe & Secure
"Finger Tip Snap-In", No Tool Necessary
AMFICO Nylon Snap-In Bushings provide industrial / construction-grade design to protect wires and cables on enclosures, boxes and panel knockout openings. Unlike snap-in metal bushings our nylon bushings are insulated and there are no sharp edges to snag wire insulation. They are manufactured from  Type 6/6 Nylon Dupont Zytel® 101, with a 105° flammability rating UL94 V2 – Self Extinguishing Non-Dripping
Nylon knockout insulating bushings for 1/2 in thru 2″  knockout openings snap into knockout openings on boxes in dropped ceilings or interior walls. This allows low voltage wires and cables to be run to devices inside boxes or enclosures. Avoid the "off-shore" knockoffs where material ane reliability is uncertain. Saving a penny is not the answer when it comes to a product of safety. 
The labor-saving snap-in design does not require any special tools for installation.
Lock in place on the knockout openings so wires can be pulled through the openings without loosening the bushings
Burr less and no flash on an ultra-smooth surface protects wires from the sharp edges on boxes or enclosures.
The strength and resilience of Type 6 Nylon will not allow the bushing to crack or warp.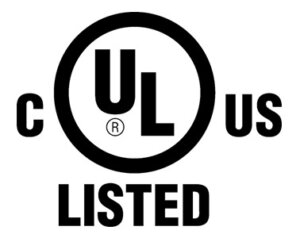 ---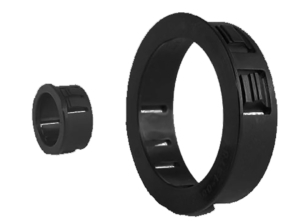 NKB Series Nylon Knockout Bushings Type 6/6 Dupont Zytel® 101 Rated 105° UL 94V2 Rating
Configurations
Material Construction:  Type 6/6 Nylon Dupont Zytel® 101
Self-Extinguishing and Non-Dripping per UL 94 V2 Rating
UL Listed to 105°C
Color as Molded Black
Features:
High Impact Strength
Snaps into Outlet Box, Switch Box or Other Enclosure
Easily Snaps In by Hand
One-Piece Construction
Ultra-Smooth Surface, Will NOT Snag Wire
Zytel is a Registered Trademark of Dupont
Download PDF Product Data Sheets
Compliances:
UL Listed to 514B, 94V2
NEMA Standard FB1
Federal Standard A-A-50553
RoHS Compliant
REACH Compliant
CA Prop 65 Compliant
UNSPSC 39131321