45° Cord Grip Connectors 1/2″ to 1″ CG Series Made in the USA
Ideal for robot manufacturers, packaging equipment, machine tool building, & other industrial OEM and MRO applications.
Demanding Conditions Demand the BEST Our Cord Connectors are  Superior to ALL  CGB, TnB Connectors
Take a Turn With the BEST 45° Cord Grip Made.
Cable Ranges from .150″ to 1.050 Trade Sizes 1/2″ to 1″
Our Cord Grips completely eliminate pull tension on terminals, control cable arc-of- bend, prevent cord pull-out, and provide a liquid-tight seal.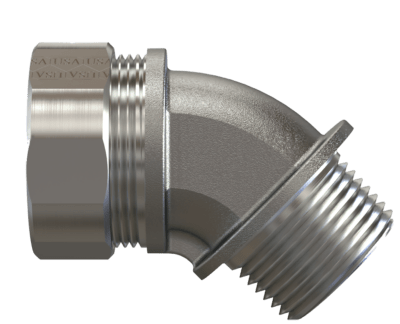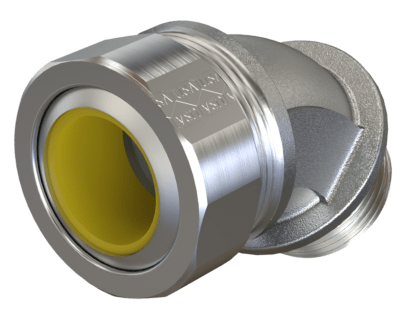 AMERICAN FITTINGS SPEC-grade 45° Cord Grip connectors are the ideal choice for environments and applications where product integrity is your prime concern. AMFICO cord connectors are suitable and currently used in many industries; including; petroleum, food processing, chemical, wastewater treatment, HVAC, aerospace, electric power, automobile, paper mills, pumps.  Our cord grips are the ideal choice for all your cable requirements.
AMFICO's fully machined unique design is ideal for indoor or outdoor locations where continuous or intermittent moisture is present and positive bonding to conduit, box, or enclosure is required. Together, the flexible metallic conduit and fittings protect conductors from damage due to excessive vibrations and contaminants, such as moisture, oils, and dust. The design provides an ideal turn for an arc of bend in tight spaces.
Santoprene Grommets for Moisture-Proof Seal
EZ Installation No Disassembly is Required
Liquidtight/Oiltight/Raintight
Suitable for NEMA 4 Enclosures & Wet Locations
Male tapered thread NPT
Colored Grommets Allow for Easy Identification
Cat Numbers & Dimensions

Configurations:
Material Construction Alloy Steel
Trade Sizes: 45° Connectors Up to 1″ Trade Size
Features:
* Santoprene is a fully dynamically vulcanized ethylene propylene diene monomer (EPDM) rubber in a thermoplastic matrix of polypropylene (PP). FDA Approved and Safe for Processing Washdowns.
Fully Reusable Design
Full Flat Hex Surfaces on Compression Nut and Body Provides Full Torque Without Damage to Fitting
Available Option: Industrial Grade Steel Locknut & Sealing Washer
Compliances:
UL 514B
NEMA Standard FB1 Rated Liquid Tight
Federal Standard A-A-50553
UL Rated Suitable for Hazardous Locations
Operating Temperature Range (normal use): -20ºC to +105ºC (-4°F to +221°F)
Grommets are Santoprene Material UL Rated 94VO and FDA Approved
NEC: Class I, Division 2
Class II, Divisions 1 and 2
Class III, Divisions 1 and 2
NEC 501-4(b), 505-4(a), 503-3(a)
RoHS Compliant
REACH Compliant
CA Prop 65 Compliant
UNSPSC 39121420