90° Liquid Tight Fittings 3/8″ to 2″ (NMLT Series)
AMFICO NM Straight Liquid-Tight Connectors are molded from UV Rated PVC for long outdoor life, furnished with a sealing entry O ring and steel zinc plated locknut and NPT threads for a seal tight connection. For use with Type B LT conduit.
Our 90° non-metallic connector provides a smooth, gradual radius bend. Wiring is easily pulled or pushed through fittings and there are no sharp edges to strip the wire.
Trade Sizes 3/8″ to 2″ 90° ( Also Available in Straight Configuration )
Type NMLT  nonmetallic connectors are intended to be used with liquid tight nonmetallic conduit Type B (NM, NMHT, NMFG, and NM2.) They are NOT to be used with Type A (LNM-P) conduit or steel conduit. Our non-metallic LT fittings completely eliminate pull tension on terminals and cable arc-of- bend prevents cord pull-out, and provides a liquid-tight seal. Ideal for robot manufacturers, packaging equipment, machine tool building, & other industrial OEM and MRO applications in wet and dry locations.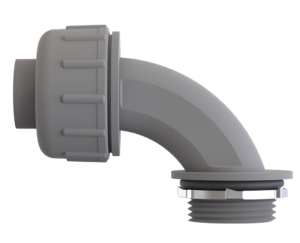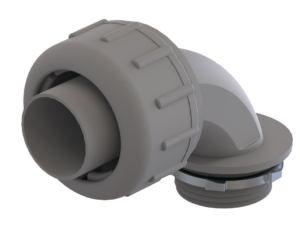 AMERICAN FITTINGS SPEC-grade NMLT 90° Fittings are the ideal choice for environments and applications where product integrity is your prime concern. AMFICO non-metallic connectors ARE suitable and are currently used in many applications including; packaging facilities, wastewater treatment equipment, HVAC,  pumps.  Our NMLT's are the ideal choice for all your Type B seal-tight requirements.
AMFICO's fully smooth interior and tough exterior design are ideal for indoor or outdoor locations where continuous or intermittent moisture is present and positive bonding to the conduit, box, or enclosure is required. Together, the NMLT fitting body and steel locknut protect conductors from damage due to excessive vibrations and contaminants, such as moisture, oils, and dust.
Cat Numbers & Dimensions NMLT 90° Connectors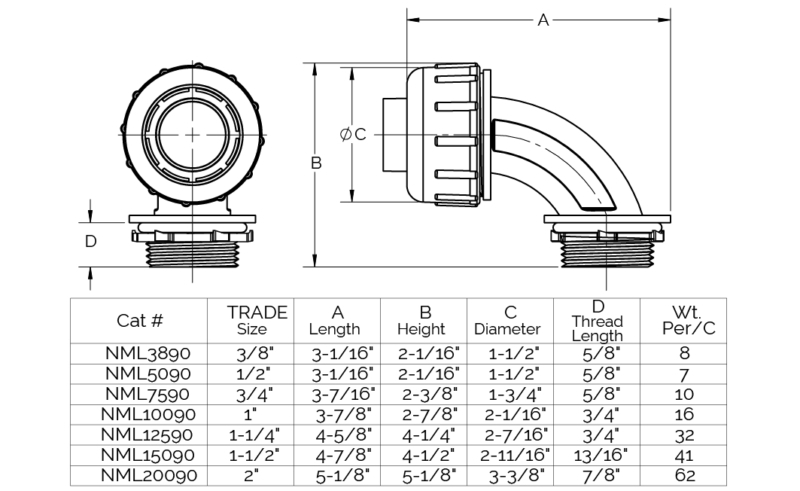 Configurations:
Material Construction: UV Rated PVC
Trade Sizes:  3/8″ to 2″°
Features:
Furnished with "O" Ring and Steel Zinc Plated Locknut
90°Angled Connectors Provide a Smooth "Sweep" Radius
Standard NPT Threads
Suitable for Indoor/Outdoor Use
Compliances:
UL Standards 514B, 467
UL Listed liquidtight flexible non-metallic conduit fittings are suitable for use in the following hazardous locations under NEC:
Class I, Division 2;
Class II, Divisions 1 & 2; and
Class III, Divisions 1 & 2;
Under NEC Suitable for grounding in sizes 3/8" through 1-1/4"
cUL Standard C22.2 No. 18F
For use with Type B LT conduit
Fitting is rated IP66
UNSPSC 39121420