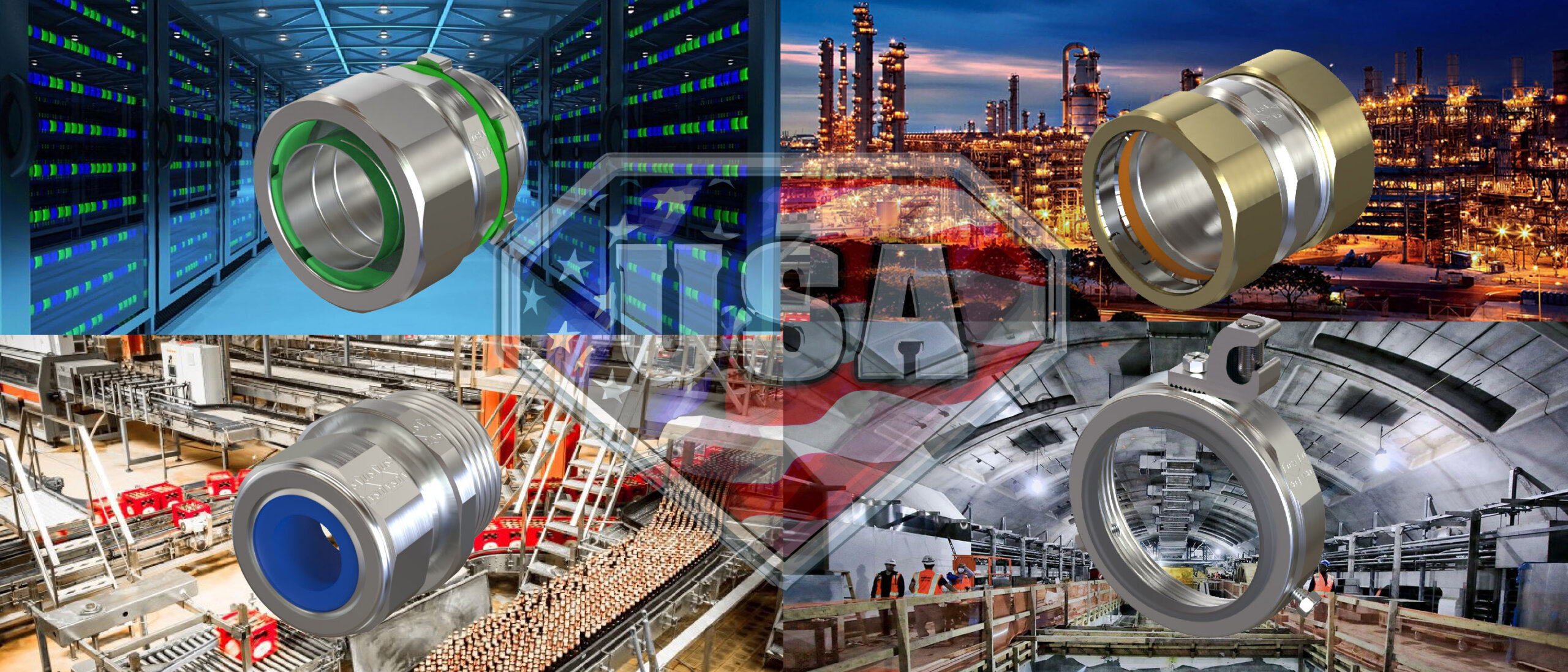 American Fittings Steel Electrical Fittings Made in the USA
Updating Infrastructure Requires New Ideas
Replace Those Outdated Connections With
The NEXT Generation of Electrical Fittings
We Furnish Solutions That Mean Business.
American Fittings, SPECgrade Heavy Duty Industrial Electrical Fittings
Out With the Old  & In With the New. Choose the Next Generation of Electrical Fittings for
Transit, Bridges, Highways, Airports, & Construction Projects 
AMFICO Alloy Steel Fittings TWICE the Strength of Die-Cast Fittings, and One-Third the Weight of Malleable Iron.
SPECgrade Electrical Fittings
Our specification grade electrical fittings are designed and manufactured to keep the construction industry and their infrastructure projects efficient and code compliant while ensuring workplace safety and reducing downtime. The correct fitting makes the installation process easier while ensuring a safe, durable electrical system.
On these heavy-duty construction projects electrical fittings are not the place to cut corners. We offer the most extensive selection of infra-structured fittings Integrity in high-quality materials, integrated fully controlled manufacturing processes provide your assurances. Solid bar stock construction, precision machined provide the ultimate in environmental protection in your facility or on equipment. Every fitting locks tight and right and will never vibrate loose or expose threads to contaminants.
We Meet the Most Demanding Requirements, OUR OWN !
Food processing facilities get cleaned and sanitized regularly, exposing vital machinery to liquids and contaminants that threaten both safety and reliability. Since contamination and corrosion are unacceptable, power handling equipment and their components must withstand the elements and fight off threats.You can be assured that all our fittings are built to withstand washdown and corrosive agents in demanding food processing environments.
You be assured that our products are built to withstand washdown and corrosive agents in demanding food processing environments. All AMFICO fittings are listed, meet and/or exceed performance requirements from Underwriters Laboratory (UL) and the Canadian Standards Association (CSA). Please see individual products for specific listing information.
Buy With Confidence
When you utilize American Fittings, you buy from an American, 3rd generation family-owned manufacturing company. All our electrical fittings are engineered and manufactured in our headquarters in Fair Lawn, NJ. No other electrical fitting manufacturer sells more US Made steel electrical fittings than us. It is that simple. Since 1946 our brand is our name, American Fittings. . . it's your guarantee.
Every Fitting Carries Our Seal of INTEGRITY
WE KNOW the DNA of every piece of raw material we utilize.
WE KNOW the production machine, operator, date & time every component & fitting were manufactured by us.
WE KNOW the QC inspector and protocols used to inspect our fittings.
WE KNOW the date, time &t the packaging person who boxed your fittings.
WE KNOW you cannot buy a better fitting- THAT WE GUARANTEE. 
Ideal for Your Demanding Conditions
AMFICO Fittings are ideal on construction sites are that require zero tolerance for an inferior, offshore, camouflaged fitting. Outdated malleable iron or truly subpar diecast do not belong on any specification where durability and long life are essential for success.  Alloy steel fully outperforms and installs faster and more reliable than antiquated malleable. Learn More →
UL Listed, Approved and Tested
Completely Manufactured in our Facility in Fair Lawn, NJ
EZ Torque Compression Nuts, Seal Tight & Right
Products made from Solid Bar Stock & Precision Machined
Galvanized Plating options, Power Coated, and Zinc Chromate Plating
Guaranteed Rain Tight Option with Gold Toned Nut for EZ Inspection
Smooth ID Surfaces Eliminates Wire/Cable Grab on Long Pulls
Vibration Resistant
Meet Mil-Std 810 for Sinusoidal Vibration Rating
Liquid Tight, Dust Tight Ratings by UL, Meeting NEMA 4X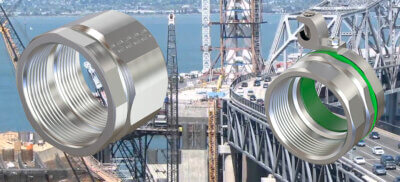 Material Options
Stainless Steel Fittings
Perfect for high corrosion environments with acids, chemicals, and chlorine-bearing agents
Excellent durability, tensile strength, temperature, fatigue and impact resistance
Low maintenance, smooth and almost non-porous surface, hygienic and easy to clean
Operating temperature: -60°F to +1000° F
Aluminum Fittings
High corrosion resistance to alkalis, weak acids and moisture, excellent rust-resistance in environments with high humidity
Lightweight with high wear resistance
Affordable alternative to stainless steel
Operating temperature: -40°F to +500° F
Alloy Steel – Zinc Plated with Chromate Finish
Good corrosion resistance to hydrocarbons, fuels, solvents and neutral chemicals
Extremely high fatigue endurance
Very high moisture resistance
Operating temperature: -40°F to +290° F