Shown Above Our Fully Integrated Manufacturing and Headquarters in Fair Lawn, NJ 
Learn More About Our Company
AMFICO's Guiding Principle – Our company's success is achieved when
our commitment to the customer exceeds our commitment to profits.
Manufacturing all products in the USA, founded in 1946 and located in Fair Lawn New Jersey, AMFICO is the leading manufacturer and developer of precision-machined alloy steel electrical fittings. With fully integrated engineering, design, production, and manufacturing, AMERICAN FITTINGS is committed to the NEXT GENERATION design, development, and manufacturing of electrical fittings. Count on AMFICO to deliver integrity of products and services.
Tradition, Resources, Commitment 
H

  Our History, Family Owned & Managed Since 1946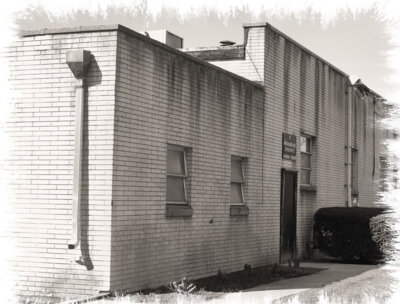 F

Our Family Management Team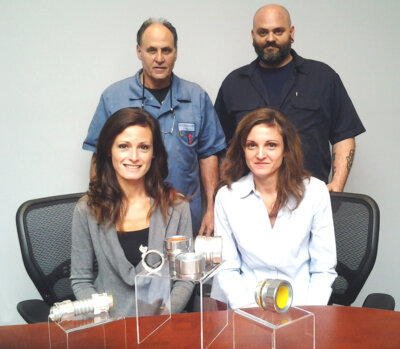 Founded in 1946 by Henry Fischbein
Henry Fischbein, the father of current CEO Allen Fischbein, founded AMERICAN FITTINGS in 1946 as Edgewater Manufacturing. Henry emigrated from a war-torn Europe with metalworking skills and an engineering aptitude. He worked with a focus that you cannot inspect for quality, it must be manufactured into every component.
Henry died in 1999 and left Allen, who grew up in the business, with a small company but an uncanny desire to grow the business. Allen grew the business with his "hands-on" machine knowledge and unique ability to develop products that exceeded performance requirements for fittings. From these roots, AMERICAN FITTINGS was formed to manufacture, sell, and market the best electrical fitting in the market.
Today, AMFICO provides products and services that were never imagined when Henry founded the company. In contrast, most of the electrical fitting companies from the 1940s have either been acquired by large multinational companies or have simply gone "out of business". Many of those companies no longer manufacture products domestically and have moved to offshore suppliers to keep corporate profits and outside investors happy.
Over the past decade, the Company has invested millions of dollars in state of the art equipment, R&D of products, injection molding machines, and a host of key personnel to grow into the next generation. Henry would be proud of how his small fittings company has grown into a worldwide leader of products.
AMFICO Management Team
Allen Fischbein  CEO & President        Dan Fischbein  VP Manufacturing
Heather Fischbein  VP HR                     Rachell Fischbein  VP  Operations
Unlike many companies, we believe that "Made in the USA" should NOT simply be an advertising slogan. We believe it is in our obligation to produce products in this country, grow our business and be responsible to our employees, community, and industry. It is our company's commitment to invest in people and capital assets and produce the highest value of product and service. This has been the core of our company since 1946 and now extends three generations.
. . ."American Fitings is producing truly the best in the World,
and it is completely accomplished right here in New Jersey". . .


New Jersey Lt. Govenor Kim Guadagno
"if we don't take care of our customers, someone else will"

Allen Fischbein, CEO  fully believes and continually states to all AMFICO employees,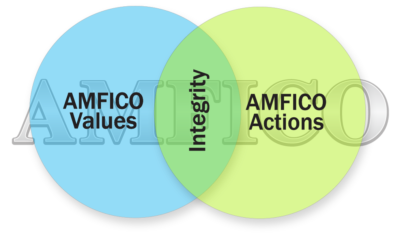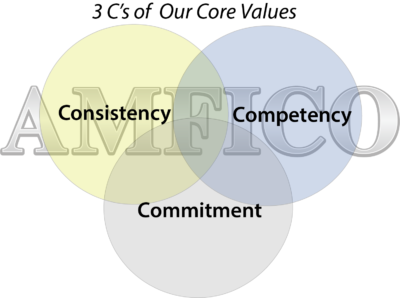 "Integrity is the courage to do right regardless of the consequences and the inconvenience."
The quality of products should go without having to state it. At AMFICO we focus on the INTEGRITY of products, products, materials, and workmanship. We believe you cannot inspect for the quality it must be built into every fitting with this integrity. From raw material to conformance testing at each stage of manufacturing, you can count on our fittings exceeding your requirement and of course without question our competition.
We understand the importance of high-quality and products of integrity that are both user friendly and safe. Our innovations in electrical fittings continue to lead the industry, so you can be confident that our full line electrical fittings will exceed your expectations in a demanding and ever-changing global marketplace.
AMFICO adheres to strict industry requirements for conformance and reliability. In fact, they don't leave the factory until our product integrity standards are met.  When they leave they have earned the name AMERICAN, a name you can trust.
The Cornerstone of All We Do is Reflected in our  3 C's Core Values & Mission 
American Fittings meets the most demanding industry standards, "our own". Our Core Values have driven us to the leading manufacturer of steel electrical fittings in the world.
Consistency – Doing things right all the time. Customers must know what to expect in our products, policies, and abilities. We do not change for the sake of profits or career moves. We are a 3rd generation family business.
Commitment – We are committed to our customers, suppliers, and employees to exceed their expectations every day. This includes service and coming up with new methods for old problems.
Competency – Investing in equipment, technologies and people factor into our ability to deliver the best electrical fitting made. Our abilities are homegrown with time.
Trust One Name, AMERICAN
We hold ourselves accountable to the highest standards of behavior in the industry and serve the trusted interests of all channel partners and our end customers. At American Fittings, we are passionate and innovative in addressing our business challenges. Daily, we seek solutions to optimize our products and services to meet the demanding challenges of the industry we serve. From distributors to contractors we can be counted on to provide the best value in products and services.