AMFICO SPECteck The NEXT Generation of
Specification Grade Industrial "Teck Fittings" for use with
PVC Jacketed MC Armored Cable, Made in the USA
SPECteck the next generation of PVC jacketed armored clad cable fittings. that installs faster, improves the application, and is fully manufactured in the USA. A single catalog number covers numerous sizes of cable with a series of furnished grommets. Have the size you need, when you need it.
Our PVC Jacketed AC Cable fittings may be used for branch circuit and feeder wiring for lighting, control, and signal circuits in wet, dirty or oily locations, buried directly in earth or concrete, surface mounted or trenched for use in parking deck or parking lot applications, golf courses, ski mountains, docks, marinas, pumping stations, and stadium lighting.
Specification grade alloy steel fitting is UL Listed Class 1 Div 2 making it the ideal fitting for processing plants, petrochem facilities,  pharmaceuticals, and medical equipment.
Also used in continuous runs to outdoor or underground swimming pool motors, pumps and related equipment (per NEC® 680), fished, exposed or concealed cable trays, direct sunlight and hazardous locations up to Class I & II, Div. 2 and Class III, Div. 1 & 2 (NEC® Articles 501, 502, 503,
Fully Precision Machined Solid Alloy Steel Construction
Twice the Strength, Durability. & Corrosion Resistance of ALL Die-Cast Fittings
Connector Forms a WaterTIGHT Seal Around Your Cable and Enclosure Entry
Your Demanding Conditions Demand this Fitting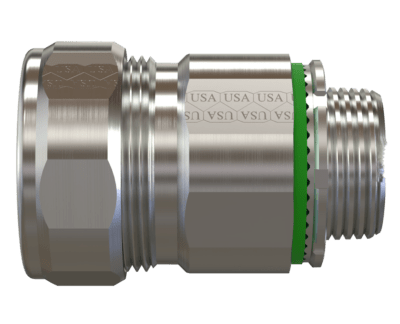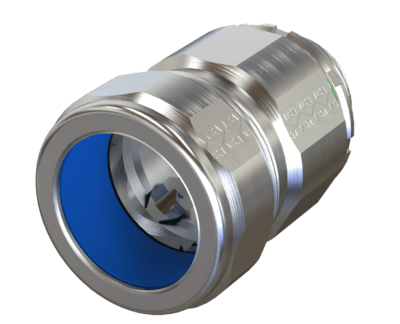 Features:
Material: Alloy Steel fully Zinc Plated with Chromate Finish
Compact Low Profile Design, Takes Up Less Room in Tight Spaces
Installs Without Disassembly, Simply Loosen and Slide on MC Cable
Unique Grounding Compression Ring Fully Secures Grounding 360º
SPEC-teck Connectors Exceeds Your Expectations Not Your Budget
The grommet is Santoprene TPV. UL 94V0 and UL rated UV Resistant UL F1
Furnished with Industrial Steel Locknut
90° Connectors Available Consult Factory
Compliances:
Certified Made in the USA
UL 514B, 467
NEMA Standard FB1
Rated NEMA Types 2, 3, 3R, 3, 4X, 5, 12, 13
NEC: Class I, Division 2
Class II, Divisions 1 and 2
Class III, Divisions 1 and 2
Federal Standard A-A-50553
UL Rated for Wet Locations Guaranteed to Seal Out Liquids,
Contaminants & Ingress of Other Fluids
Suitable for Direct Burial
Galvanized Plating Available
CSA Standard: C22.2 No. 18F
RoHS Compliant
REACH Compliant
CA Prop 65 Compliant
UNSPSC 39121419